Many years ago, you fell in love with your carpet's look because it was new. You understand the need to clean your carpet, but hiring professional cleaners doesn't come cheap. Saving money is possible when you opt to clean your carpets yourself. But you may lack some professional expertise and appropriate equipment. Most people who choose to clean their carpets themselves end up damaging the carpets.
Have you ever experienced cleaning a stain only to see it reappear the following day? If you answer yes to this, then your stain wasn't removed all through your cleaning process.
However, there is no crime in cleaning your carpet if you equip yourself with the required knowledge to do so. You must make sure you avoid these most popular carpet cleaning mistakes if you plan to handle your carpet cleaning yourself. Making these mistakes can cost you a fortune in the future. The carpet may be damaged during the process, or they start showing signs of mold. When you get to this stage, you won't only be paying for carpet replacement but also for mold removal.  Here is a list of 10 most common carpet cleaning mistake.
#1 Vigorous Scrubbing of a Carpet Stain
The carpet fibers will be damaged when you scrub your carpet vigorously. Aside from the fact that vigorously scrubbing is not an effective way to remove stains from a carpet, it may also cause the stain to go deeper into the carpet. Scrubbing untwists carpet fibers leads to fray, which means damage to the carpet fiber. Blotting is the safest and effective way.  
#2 Not using the Right Stain Removal Product
Because your carpet stain is not much doesn't mean you can just get any stain removal product to clean it up. You will find many poor pieces of advice on using natural solutions to remove carpet stains. You should know that you are on your own by the time you apply the solution, and it ruins your carpet. Carpet fibers are designed using varieties of materials, each of which requires specific handling. The only source you can rely on is to provide you with the right information on the right cleaning products you can use on your carpet without ruining it. You will be surprised at your carpet manufacturers' readiness to help you in the best way they can to solve your carpet stain issues. You don't have to do much, just visit their website or contact their consumer help desk.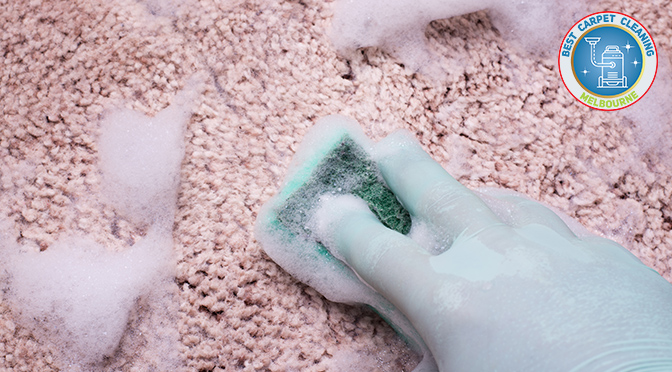 #3 Using Excessive Shampoo
As dirty and filthy your carpet looks, you will be challenged when you are about to apply shampoo because getting it wrong can lead to another problem. If the shampoo you applied is not enough, your carpets will not appear or feel clean. If you apply excessive shampoo to your carpets, you may be causing a complex problem because of the challenges you will face when you try to get the excess shampoo out of the carpet. Failure to extract the excess shampoo from your carpet may lead to things like:
Shrinking and pulling of the carpet from the walls
Pockets or gaps showing between the floor and the carpet
You start seeing piles of little tears closer to seams
Sadly, there is no solution when your carpet starts to shrink. The only option is to replace the shrinking carpet. Will you want that to happen to your carpet soon?
#4 Not acting ASAP
Waiting longer to remove a stain will make it more difficult to be removed. When you wait for a spill to dry on your carpet, you are also giving the liquid to soak deep into the carpet fibers and get absorbed into the carpet padding. This will result in wicking when you begin to remove the stain, odor, and in some cases, mold growth. Learn more by reading "Top Tips to Remove Tough Stains from the Carpet"
#5 Not vacuuming regularly
Most people make the mistake of not vacuuming their carpet regularly. Waiting to have visible enough dirt and debris on your carpet before you vacuum is too long and wrong. You should at least make sure you vacuum once a week. If you are a pet owner, then daily vacuuming is even nice. Understand that dust, dirt, and spills that are nearly not visible to naked eyes are deposited in your carpet daily and is a normal aspect of wear and tear. Even though it is invisible, these particles are reducing the strength of your carpet fibers. If you stay away from vacuuming your carpet for a longer period, it will start looking rough and awful, which most people fear. Vacuuming lifts the carpet fibers as well as the dirt, dust, and oils from the carpet in order to restore the beauty and strength of your carpet, which are the reason you go for it in the first instance.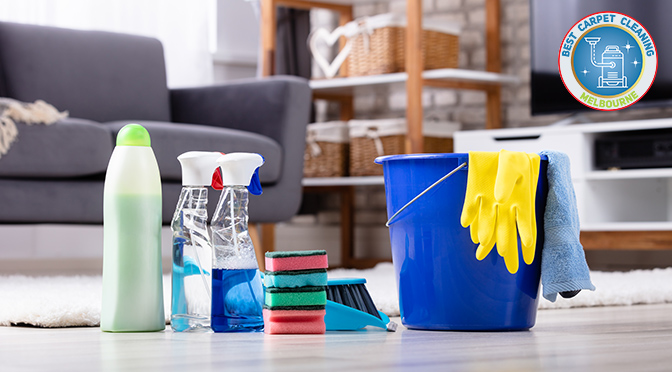 #6. Not trying out a New Cleaning Solution before use
You should always make sure you test the new carpet cleaning solution on a patch to figure out the chemical's reaction to your carpet. Find out the solution strength and test on a hidden area of your carpet to ensure the carpet fibers are not damaged or bleached.  
#7 Wetting the Carpet
Getting your carpets wet is another major mistake people make when cleaning them. You want to avoid soaking the carpeting when you shampoo or rinse it. You are risking the padding getting wet if you use too much water on the carpeting. Drying of the carpet becomes difficult when the padding and backing become wet. You may also begin to smell a musty odor or see mold growth when the carpet padding and backing are dampened. Once mold takes over any part of your carpet or its padding, you have no choice but to get rid of the carpeting and clean it properly to get rid of mold growing there.
#8 Renting Carpet Cleaning Equipment that is not functioning well
Regardless of how good your intentions are when renting a carpet cleaning equipment, there are still some rental machines out there that cause more harm to the carpet than good. Rental cleaning machines that are not serviced appropriately or that get damaged more often can leave excess cleaning solution on your carpets, thereby causing mold damage or quick re-soiling of the carpet.
#9 Using Low-cost (inferior) Carpet Deodorizers
Gunk can quickly develop into a pile on your carpet fibers over time when you use powder carpet deodorizers. In most cases, the vacuum cleaner doesn't remove the entire powder. The powder gets matched deep into the carpet fiber when you and your friends and family walk over the carpet. Removing it becomes difficult over a time. Aside from that, using powder deodorizers can give you a sense of cleanliness falsely. Some people take cleanliness to be that clean smell that comes from deodorizers. However, your carpet smells nice doesn't mean the carpet is clean. You may not see the need to hire a professional cleaner or even vacuum your carpet because of the fresh scent of your powdered deodorizer, and that is harmful to your carpet.
#10. Not hiring a Pro
Although saving money on carpet cleaning is a very nice thing when considering your budget, you won't get more than you pay for. You can be sure of proper and adequate cleaning when you hire a professional team to clean your carpets, especially if it has been long you did. You may schedule professional cleaning for your carpet quarterly or biannually.
There are many benefits of hiring professional carpet cleaners:
They will use the right carpet cleaning equipment and cleaners.
Professional carpet cleaners can steam clean your carpet to lessen the carpeting allergens.
They can give your carpeting proper treatment to repel stains.
A professional cleaner will be ready to re-clean areas the clients are not satisfied with.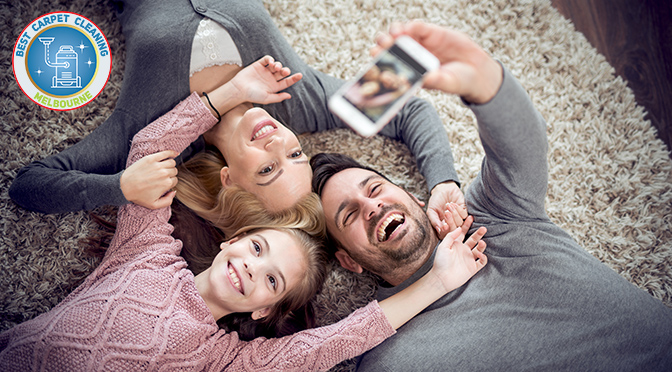 Conclusion
For further tips on how to clean your carpet like a pro, read our post – Carpet Cleaning All You Need to Know. If you are looking for a professional cleaning company to handle your carpet cleaning or just need more information about the service, contact us today.