You likely spend a lot of money on your carpet just to decorate your home and give it a nice look. Hiring carpet cleaners to clean up your carpets indicates that a professional and proper cleaning will be done on your carpet. However, even when you arrange for regular carpet maintenance, these mistakes can still happen with your carpet cleaning company. The mistakes could make your carpets, and your home looks awful and may bring your carpets' lifespan closer.
There are several obstacles to commercial cleaning that require methods to establish normal steps. When you time your cleaning and use the right equipment, they can affect your cleaning job positively. At Best Carpet Cleaning Melbourne, we give our technicians proper training on how to use our system properly and avoid the kinds of mistakes discussed below. As a homeowner, you may not observe some of these blunders committed by your carpet cleaners. However, you will soon discover mistakes being made by your carpet cleaning company.
Below are some of the most popular mistakes:
#1 Using the Wrong Spotting Agent
Using the wrong spotter will set the stains rather than clean properly. A kind of solvent is required to remove most stains like paint, oil, nail polish, and adhesives. An acidic cleaner is required to remove other kinds of stains such as coffee, tea, and water stains. Most stains will come up from your carpet fiber when you use the right steps and spotting agent; else, the stains will set and blend with your carpet and may need to be dyed before it gains its original color. Is this what you expected from a professional carpet cleaning? No!
#2 Using Cheap Tools and Supplies to clean Carpet
When you shop around too much for carpet cleaning companies online, you will eventually be drawn to cheap carpet cleaners. Also, you might be offered deals like buying two solutions and getting one for free. Although you might be able to save some money at the start, you are putting the quality of your carpet at greater risk. The strong chemicals used to make such cleaners will cause irreversible damage to your carpet rather than cleaning it more softly and brightly. Making sure your investment stays in good condition all through the cleaning process can only be ensured by using cleaning accessories specially made for carpet cleaning.
#3 Scrubbing the Carpet Area Instantly after spilling
Scrubbing the carpet immediately you spilled, let's say a glass of red wine on it might give you the desired results, but it will also leave some damage on the carpet. It would help if you worried more about poorly twisting to your carpet fibers. To prevent such an unfortunate situation is to scrape the affected part. Then, make sure the whole region is soaking with a sponge. This will get rid of the stains to some extent and leave no damage to the carpet's texture.
#4 Not testing the Carpet Material First
If you skipped pre-testing, the carpet can decolorize and greatly damaged. The best method is to clean a small test area that is dirty in the region you plan to clean. This process should be simple and straightforward for you but is usually overlooked when time is running.
#5 Taking every Carpet Cleaner as a Disinfectant
You have to observe the cleaning process by considering many important factors. However, if you are only concerned about neatness, then you can hire any carpet cleaner. Various extra features come with branded cleaners like mixed disinfectant solutions. Certainly, you can keep hygienic standards through normal features of carpet cleaning based on the possibilities of experiencing the best outcome in the actual way you wanted. In this situation, you should clean different kinds of carpets with ultimate ease.
#6 Using Old Equipment
Your carpet might be exposed to higher risk when your carpet cleaning company uses old cleaning equipment. The use of faulty or old cleaning equipment by your carpet cleaning company can be dangerous, costly, or ineffective. There has been great improvement in carpet cleaning over time, and the improvements to the technology in use are not slowing down.
#7 Not taking Time to figure out Stained Areas
This step is one of the many that should be repeated on each job. Make sure you carefully find out each stain and constrains surrounding the whole job. It would help if you also considered vacuuming dusty regions in order to remove soil from the carpet to achieve the desired result.
#8 Using the Wrong Method/Approach
Your carpet warranty may be rendered void when you hired unprofessionally trained cleaners that use the wrong approach to clean your carpets. You may also find yourself in a situation where carpet replacement will be the only option, which unfortunately is not a cheap exercise.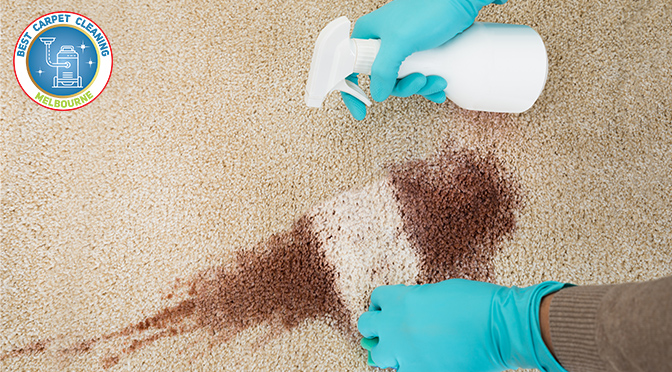 #9 Not taking care of Stains immediately
Carpet cleaners always make a mistake of not getting rid of stains appropriately and immediately. Similar to any stains, the best way to get the stain removed is to tackle them immediately. So contact your professional cleaners to get rid of your stain the right way if you have one.
#10 Not giving their Team Adequate Training
Consider carpet cleaning as a science that needs the right approaches and practices to be done effectively. A carpet cleaning company that fails to train its crew member is putting customer's carpet and facility at greater risk. So, providing adequate training on how to handle the cleaning equipment efficiently, how to handle chemicals safely, and how to spot-test new cleaning products are all very important.
Preventing Commercial Carpet Cleaning Mistakes
Fortunately, you certainly will not be faced by any of these mistakes in your property when you choose Best Carpet Cleaning Melbourne to clean your carpet. We make sure all our staff is dedicated, trusted, and more importantly, properly trained in all of our quality approaches using various equipment and years of experience. Best Carpet Cleaning Melbourne is the best you will ever find in Melbourne and its areas.If you are not sure of the quality of service you received from your current carpet cleaning company or you are hiring for the first time, we are the best for the job. Contact us today to see how we can give your carpet a refreshing cleaning.