It is understandable why carpet is popularly used as flooring options in most aged care because it is considered the safest for elderly adults. Carpet offers better traction, unlike bare surfaces, and it lowers the risk of slips and falls that can lead to bruises and broken bones. Carpet also provides warmer flooring than bare floors, working as insulation inside a room and keeping the room's heat more perfect.
Also, carpet works as a large air filter by trapping so many dirt, bacteria, and allergens per square foot. It can significantly lower the signs of allergy sufferers and reduce the spread of germs in the age care homes. The number of indoor air pollutants on the average doubles that of outdoor air, even though we often believe that outdoor air contains more pollutants and is unhealthy for us. To enjoy all these benefits in the age care, carpets need maintenance.
Together with regular vacuuming and spot cleaning, cleaning the carpet in age care professionally is very important. Professional cleaning doesn't only elongate your carpet's life, but also enhance overall health in the environment.
Below are also a few of the other things to enjoy when you keep carpet cleaned in age care:
Improved Health
Carpet tends to become a warehouse for allergens, bacteria, and dust particles. If any of your resident members are prone to breathing problems, the air-borne particles in age care carpet can enhance breading problems like asthma and allergies. Various health problems can occur because of these contaminants in carpeting, especially in the elderly.
Vacuuming truly assists in the removal of dirt, dust mites, and bacteria; however, these things are not completely removed, and they tend to accumulate over time, causing an increase in the risk of health problems. Professional carpet steam cleaning performs dust, dirt, and bacteria removal, which greatly helps older adults in aged care breathe fresh air and lowers the chances of colds and other health issues.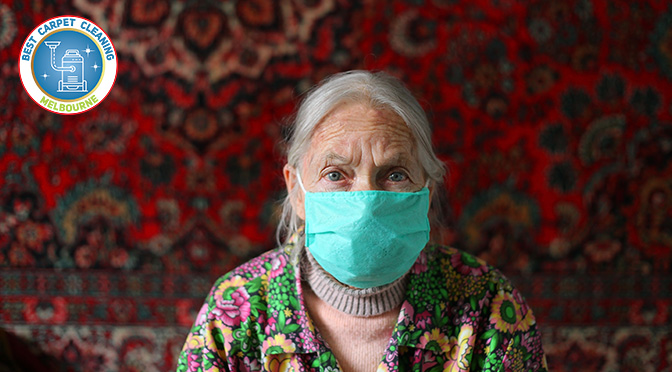 Preventing Dust Mites
Dust mites are too small. They live with us in our homes, and many of us are not even aware of their existence, especially in aged care. Knowing this during an infestation, many of us may not be aware of it. The faeces left behind by dust mites are what cause allergic reactions. One can easily inhale the microscopic particles during contact with an infected area. That's disgusting, huh? Up to 20,000 dust mites may be scoop into half a teaspoon. Now consider the size of carpet in any aged care, even in the smallest part of the facility.
Improved Airflow
This may sound strange, but dirty carpeting can block the inflow of air in aged care. With accumulated dust, dirt, and debris in your carpet, the airflow will be disturbed, especially in parts of the room towards the walls where air circulation is required the most. Rooms may become stuffy when there are much dirt and dustbin on the carpet. You cannot get rid of these with regular vacuuming alone, and that is why aged care facilities need to clean your carpet regularly. The quality and inflow of the air will be improved when aged care have clean carpets.
Helps prevent Dangerous Mold Growth
Mold and other unhealthy development in dirty carpets is highly increased in places with high humidity where the carpet is in contact with moisture. This may be the case in aged care facility with residents from different background. Certain areas around large furniture items where airflow is lowered can also give a nice environment. Moisture can easily track indoors during rain and sinks into carpets, where it improves the growth of mold and mildew. It has been reported that smoking cigarettes are not as harmful as mold because it causes spores on the lungs, which leads to serious health and respiratory diseases. With steam cleaning of carpet in aged care, you can get rid of mold growth.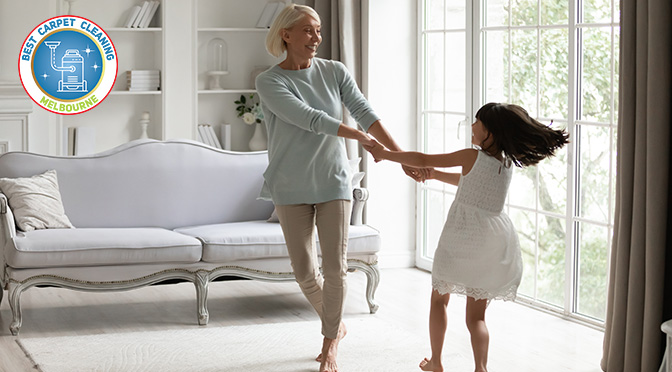 Improved Look and Feel
Carpet steam cleaning will improve carpets' general look and feel in aged care. Carpet fibers can turn matted from a build-up of dirt and dust in it, and this makes the carpet look old, worn, rough, and flat, no matter the number of padding below it. The dirt and dust are removed by expert cleaning service and prevent them from ripping the carpet fibers apart and greatly make them look great and feel softer for a much longer time.
Get rid of Harmful Pollutants
As discussed earlier, carpet is the source of interior pollutants. Aside from the regular dust and dirt, there are pollutants, allergens, and pet dander in carpets. The particulate matter gets adapted to by toxic airborne and is trapped in the carpet. When the carpet is disturbed or vacuumed, the toxic gasses are triggered and dispersed into the air, starting the cycle again. With carpet steam cleaning, aged care will be able to remove these deeply rooted pollutants.
Better Sleep
There are changes to our respiratory rate when we are fast asleep to the extent that our breathing rate reduces and becomes much normal. So the air quality when you are awake is just as important as when you are sleeping. This is one of the reasons to steam clean carpets in aged care facility. Note that you might spend about six to eight hours a day sleeping in your bedroom, that implies eight hours in each bedroom daily; that's one-third of your day.
Easy Breathing
Breathing is just an unconscious but natural action. We do it without having any thoughts about it, but breathing can be a terrible thing if the air quality coming out of the carpet is low. Your body undergoes a lot of stress when having shallow breaths, especially your lungs and heart, making you feel physically tired when climbing stairs, for instance. This is more dangerous in aged care expected to be healthier and safe. Have you ever seen residents feeling stressed in nursing home? This might not be because of any other thing; it might be because the facility is making residents lethargic.
Balanced Humidity
Great balance of humidity is one of the results of good indoor air quality. Humidity (which is measured as the quantity of water in the air) affects every part of age care environment. Excess caused breathing to feel heavy and also makes residents feel moist and stuffy. The additional moisture, as discussed before, causes mold growth and an increase in the population of dust mite and also attracts pests.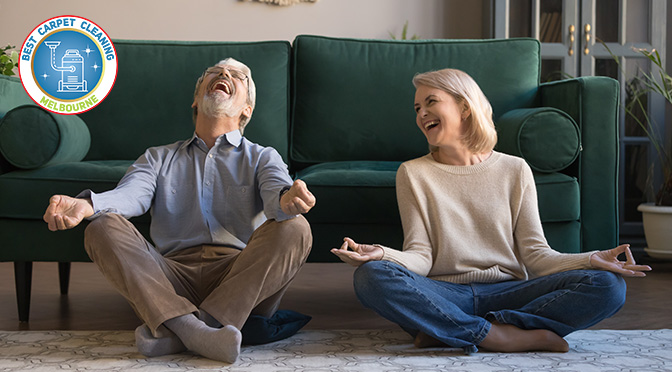 Best Way to clean Carpets in Aged Care Homes
Even though there are many benefits to carpet, you need to maintain it properly to serve its purpose as an air filter effectively. Some of the best ways to make sure carpets in adult living facilities maintain their long life and efficiency are discussed below:
– Find out your level of need: Even though many rooms in an adult living facility may have carpet, they all, however, require different maintenance arrangements. Divide rooms and areas in the facility to help design a schedule of important intervals for convenient, easy, and regular maintenance. The lobby, first-floor rooms, and hallways are part of the facility with heavier foot traffic, and deep cleaned every quarter.
There may also be a need to perform extra cleaning in the dining room as it is used at least thrice a day. Areas like resident hallways and common areas on top floors should be cleaned maybe twice in a year or based on the number of residents and user's age. It is important to clean each resident's rooms yearly, quarterly or on a need-to-clean basis, such as turnover or incidents.
– Consider drying time: For residents' safety, it is necessary to leave the deep-cleaned carpet to completely dry before they are allowed back into the cleaned area. There would be a risk of slipping and falling if an adult should walk onto a dirty but wet carpet. It can take about two days for traditional steam-cleanings to dry, which can cause problems for common areas in heavily-populated communities. Less water can be used by other cleaning processes.
There will be a risk of mold and mildew growth on carpets when you use steam cleaning to cut back drying time. It also enables safe access to those common spaces in the community sooner and with little disruption for residents and workers.
– Use adult-friendly solvents and soaps: There may be detergent in the water used for normal steam-cleaning, and it may leave a residue that is soapy and sticky. The residue left behind can be irritating and can cause a harmful environment for the seniors, who are more prone to irritation and allergies. The residue can also quickly attract dirt on the carpet, giving rise to the need for more frequent cleaning.
Our Aged Care Carpet Cleaning
Maintaining cleanliness in adult care facilities is very important because of the susceptibility of aged people to diseases than youths. They can easily get an infection and can spread quickly to nearby facilities. However, in some cases, the adult care facilities are so large that it contains spillage, and other messes daily can be difficult. That is why effective and advanced steam cleaner is required by aged care facilities as it can make work easier within these facilities.
You can hire the aged care cleaning service of Clean House Melbourne to take care of the size of cleaning and disinfection that is needed at adult care facilities.
The company has been providing cleaning services in Melbourne and its environments for long years and has been able to come up with equipment that satisfies and exceeds the demands of adult care communities. Floor cleaning and sanitization in aged care facilities can be handled by us within a short time because of our versatility feature.
Why choose our Aged Care Cleaning?
– Our cleaning equipment are strong and sophisticated.
– Quality service delivery to satisfy any unique demands needed at aged care facilities.
– Carpets, hard floors, walls, spillages, and windows at adult care facilities can be cleaned by our experienced cleaners with timely manner. We will also perform sanitization and disinfection of the areas and get rid of any bacteria present.
– We have experienced teams that are specially trained for aged care facilities are fast and can perform cleaning and sanitization nursing home perfectly.
– Steam cleaning machines can also add deodorant to hard floors and other surfaces that contain textiles such as carpets and curtains within minutes, getting rid of bugs, bacteria, and other hidden particles very fast.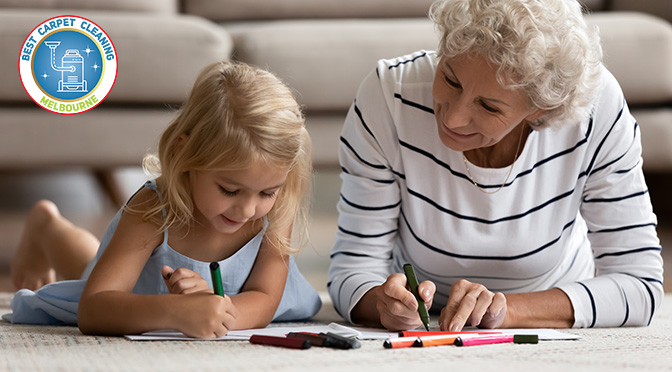 Conclusion
When you are looking for cleaning company for aged care cleaning purposes, check for companies that use green-certified and purely natural cleaning solutions, which are made to help mitigate the risk of allergic reactions to create a safer and more comfortable atmosphere. Carpets can last longer, economical and healthful; it is a good choice for adult living facilities and their residents when you ensure proper maintenance. Contact Clean House Melbourne on 0390005250 now to book a reliable carpet cleaner for your aged care.