Grout gives a strong foundation for tile and prevents liquid seepage, but it easily gets stained because of its porous, rough texture. Stained grout stands out from the look of the entire sparkling one, so it is best to clean out spills and clean regularly to prevent the setting of stains.
Cleaning and whitening of stained grout are relatively simple and it requires just a few basic tools and few amounts of time.
However, it requires effort to lift stains that have settled deeply, so get ready to add a little effort to the process.
Do tiles require a bit of refreshing?
Do not think of completely re-tiling, consider the following simple and easy ways to clean and refresh your grout to change the look of your bathroom.
Steps to White Clean Grout
Tools and materials:
Bucket
Cleaning gloves
Eye protection
Dust mask
Grout Pen
Masking tape
Mold Killer
Scrubbing brush
Sugar Soap
Toothbrush
Scrub Your Grout and Wash Your Tiles
Before you start, consider the two-step cleaning process. First is to wash your tiles and grout using sugar soap and a toothbrush and scrubbing brush. We applied Selley's Sugar Soap solution for this; combined with warm water in a bowl – it is effective. Make use of a toothbrush, scrubbing brush, as well as some effort to scrub the grout and give it a good starting.
Remove any Mold
Pick up your dust mask, open your windows and pick some mold killer to reach there, and remove any mold spores. This is why your grout appears so dirty. About 99.9% of germs are removed by Selley's Rapid Mold Killer and are usable in various places around your home, such as showers, toilets, and laundry areas.
Just spray on, allow for 2 – 3 minutes and rinse down properly using water. It will surprise you how effective this product is. But caution, it is relatively noxious, so remember to put on your breather. For additional grimy tiles and grout, repeat this two-step process multiple times.
Make use of your Grout Pen
Grout pens are so much helpful. Just use them as a pen to paint a fresh layer on grout. Leave for 30-mins and it is dried, but if you decide to apply a second coat, wait for an extra one hour before you apply.
Finishing
Next is to clean your floor using a mixture of floor cleaner and water. Ensure you get the entire bleach away from the tile, and this is where it can cause damage. If you allow the bleach to settle on the grout, it can affect it over time. Avoid flooding your bathroom with water or anything, but perform a deep rinsing after completing scrubbing.
Good as new
And after everything, you have fresh and clean-looking tiles and grout.
Other Options to Consider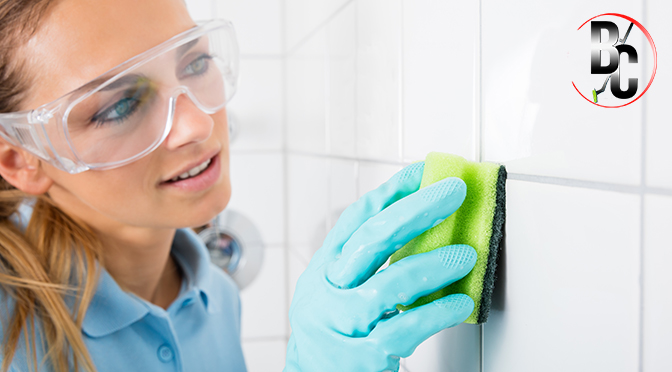 Clean the Tiles
For most tiles, even ceramic and porcelain, a DIY grout cleaner that contains warm water and dish soap will get it done. Robb Roderick mentioned that diluted vinegar is popularly recommended, but vinegar contains too much acid. Using a too powerful solution will weaken and damage the grout, and stone tiles can get etched by vinegar. Instead, we recommend you spray a mild mixture of water and dish soap, and then use a microfiber towel or cloth to wipe.
Use Vinegar to Whiten Grout
Clean grout of synthetic or ceramic tiles using vinegar. Do not use it closer to natural stone tiles like travertine, limestone, or marble since the acidity will cause etching, which will cause stone degradation. Protect your eyes from the vinegar by putting on goggles. Pour undiluted, distilled white vinegar in a spray bottle at about a quarter full. Spray the vinegar on the stained grout.
Allow the vinegar to soak in for 5-10 minutes so it settles in the grout. Use an old toothbrush to scrub the grout or use a scrub brush to remove the stains.
Focus more on badly stained spots. Rinse the vinegar away with water to see the clean, white grout. Be sure to spot-treat any residual stains with more vinegar and rinse. Clean the entire area using your preferred tile cleaner to help get rid of the vinegar smell.
Scrub Bathroom Tiles Using Steam
You are probably facing issues with surface dirt, debris, and soap scum residue in your bathroom, which can be difficult to remove. Reduce your stress through spritzing surface cleaner on the floors and shower surfaces, and then rotate the hot water for five minutes until you notice steam. Leave for 20 minutes and the tiles will be so much easier to wipe clean using a cloth.
Scrub the Grout Lines
Now, is the time to focus on the grout lines between your clean tiles. The grimy level of your grout may be determined by what is in it. Traditional grout is made up of sand and cement mixed, even though modern grouts include latex and some polymers to help improve their stain–resistance. Regardless of the stains in question, water and patience will be the effective tools you have.
Begin by spraying hot water on the grout and scrub it using a stiff bristle brush or a toothbrush, to list and remove any dirt or grime on the surface. If there is a steam cleaner available, that is so much effective.
Directly apply the spray to the grout and scrub with a brush in a circular direction. Blot away any moisture using a rag, and after the grout dries, it may appear as new.
Use Oxygen Bleach to Whiten Grout
Use oxygen bleach to clean grout between synthetic, natural stone, or ceramic tiles since it is safe for any type of surface. Spot-test the cleaner in and away from the area to ensure it won't discolor your tile.
Pour four teaspoons of oxygen bleach powder into a two-gallon bucket. Pour boiled water and stir till the powder completely dissolves. Dip a microfiber cloth into the oxygen bleach solution.
Use the oxygen bleach solution to wipe away the oxygen bleach solution until it is completely saturated. Make use of a mop if it is a floor grout you are whitening. Allow the solution to sit for 30-mins. Lightly scrub the grout using a scrub brush. Add more solution of the oxygen bleach and allow it to sit for extra 30 minutes.
Get rid of the oxygen bleach solution with the use of microfiber or a mop. Use hot water to rinse the grout and wipe dry. Spot-treat tough stains using more oxygen bleach solution, lightly scrub, and rinse.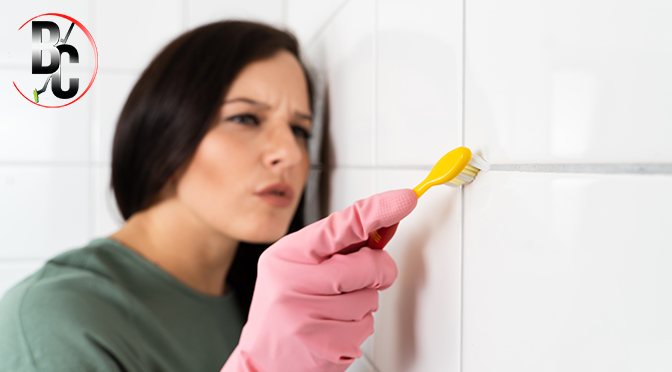 Why Water Is Mostly Effective
Water contains a neutral pH (at 7) and is generally gentle and safe to use on grout, according to Rodderick. That is not the case with highly acidic cleaners like vinegar that has a pH of about 2, and highly alkaline cleaners like bleach with a pH of about 12, so you should use them lightly.
Tackle Stubborn Grout Stains: if you still find your grout looking dull, get a cleaner of pH-neutral like Tub & Tile cleaner from Neu. Then get a stiff brush and scrub it again. The effort is necessarily important here.
You can also get rid of stubborn stains using a Magic Eraser but understand that you might have to do more than one to get whole room tiles cleaned. After scrubbing, make use of a damp cloth to remove any residual grout cleaner. Just ensure that you are using a clean microfiber cloth and freshwater.
If you are using a dirty sponge or dingy mop water to rinse the grout, this will cause the grout to soak and get discolored again real quickly. For highly stubborn stains, alkaline cleaners like Mr. Clean or Spic and Span are recommended by the Tile Council of America over-acidic alternatives. Perform a quick test in a small hidden spot for non-neutral cleaner as suggested by Rodderick.
Leave for few minutes to ensure that you don't cause discoloration or damage before proceeding to the other grout lines.
Eliminate mold: Mold growth becomes rapid in hot, humid bathrooms with less circulation. Even though mold is quickly eliminated on porous surfaces, such as tiles and countertops, it is not as active on porous surfaces like wood, caulk grout, and drywall.
Zep Tile Mold Stain and Mildew Stain Remover are recommended by Smallin Kuper to remove mold stains once and for all. Then make it a routine to open the window or run the fan in your bathroom after showers to reduce the room's humidity.
Seal your success: Sealers occupy the pores on the grout, preventing grit, mold, and grime from getting into the porous material. How regular you are required to seal grout is based on the level of traffic experienced in a tiled area, but prepare for a minimum of yearly and for most of the home, two times a year is a nice plan, according to Maker.
Just make sure you hold on at least 24-hr between thorough scrubbing and application of the sealer, to ensure complete dryness of the grout. Consider DuPont Grout Sealer as a top option.
Make some daily twists: If you observe any particular areas that are grimy on your tile floors, for instance, the back door and towards the laundry basket, try laying down a rug to improve the protection of those areas from dirt and debris or make sure you perform sweeping and mopping more frequently, according to Maker.
Conclusion
Now, you should have a sparkly tile and grout in your home. Cleaning your tile and grout using bleach is kind of wrong. It is one of those things that are not recommended by everyone, but it is performed by everybody regardless. The best option is to hire a professional to clean your grout.
If you need grout cleaning service, don't hesitate to make an inquiry now!