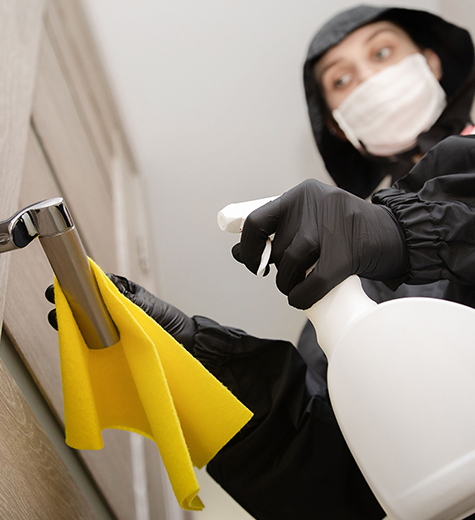 Top Quality COVID Cleaning and Disinfection Services in Melbourne
With the rise of the different variations, popularly known as variants of concern (VOC) of the novel corona virus, it is important to keep your property well protected as the newer strains are proving to be more contagious. But to clean and sanitise your place, you will need to have the best cleaners by your side, and here at Best Carpet Cleaning Melbourne, we have them in our team. Therefore, if you are searching for a reliable provider of COVID cleaning and disinfection service in Melbourne, you are at the right place.
Our cleaners are trained and experienced when it comes to COVID cleaning. They are well aware of the national and internal safety protocols and they follow them to keep you, as well as themselves safe from the virus during and after the service. Additionally, our cleaners carry out the service with planning to ensure that your property is 100% free of the pathogen that is causing the pandemic.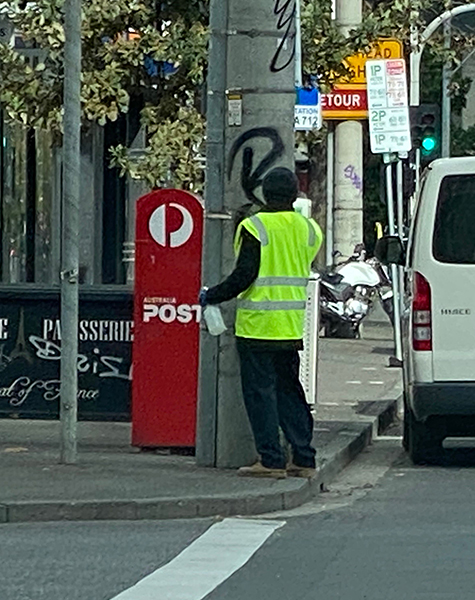 Services
Efficient COVID Cleaning and Disinfection by Our Experts
In our Melbourne COVID disinfection and cleaning service, you can expect your property to be clean and fully sanitised which will eliminate the risk of the virus staying active on the surfaces. This will also reduce the risk of transmission.
Our COVID cleaners will clean and disinfect all the surfaces in your place that include
Most touched areas such as switchboards, handrails, doorknobs, etc.
Furniture and appliances
Upholstery
Toilets, showers and bathtubs in the bathroom
Storage spaces in the kitchen
Work desks and equipment
Window blinds and glasses
Balcony, hallways, vents, etc.
While cleaning and disinfecting, our COVID cleaners in Melbourne will maintain social distancing, wear safety kits that include PPE kits, gloves, goggles, masks, etc. as directed by the Australian department of health. Also, our cleaners will use a wide array of tools to sanitise your property thoroughly.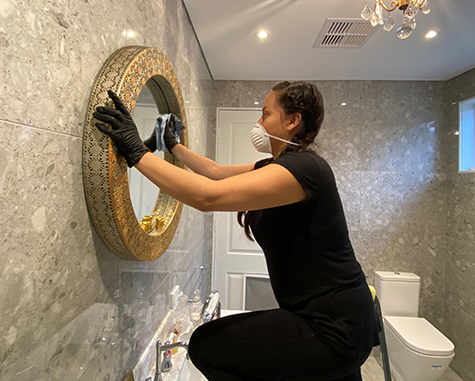 Services
Comprehensive Decontamination and Cleaning Services in Melbourne
Contamination in your property can raise the risk of cross infections. Therefore, opting for our decontamination and cleaning service in Melbourne will be necessary if you want to keep yourself, your family members or your employees and customers safe.Our cleaners will inspect your property to determine whether there are materials that are contaminated that can be harmful to your health. After that, they will remove the contaminants and disinfect the place(s) using special solutions. Thus, if you are searching for a reliable and responsible company that aims to keep you safe from the novel virus, Best Carpet Cleaning Melbourne is the one to meet your needs.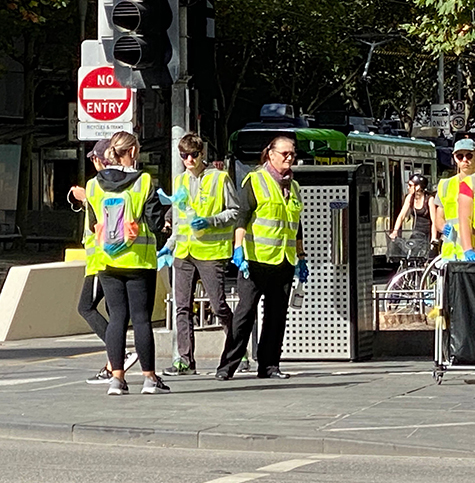 Services
Why We Lead as a COVID Cleaning and Disinfection Service Provider?
We hold the top spot in COVID cleaning and disinfection since
We take all safety precautions when COVID cleaning properties
Our cleaners are skilled in disinfecting and decontaminating properties
Our cleaners are punctual, and police checked
We use advanced equipment to clean and disinfect properties
We are open on all days and even on holidays
Our COVID cleaning and disinfection service is affordable
To get your queries solved by our executives, call us anytime between 6 AM to 10 PM.
Get COVID Cleaning Quotes in Melbourne
To get a COVID cleaning and disinfection quote or book a service from Best Carpet Cleaning Melbourne, call us or drop an email now.
Areas We Serve
Disinfect from COVID 19 Brooklyn
Disinfect from COVID 19 Kingsville
Disinfect from COVID 19 Maidstone
Disinfect from COVID 19 Tottenham
Disinfect from COVID 19 West Footscray
Disinfect from COVID 19 Albanvale
Disinfect from COVID 19 Kealba
Disinfect from COVID 19 Kings Park
Disinfect from COVID 19 St Albans
Disinfect from COVID 19 Ascot Vale
Disinfect from COVID 19 Highpoint City
Disinfect from COVID 19 Maribyrnong
Disinfect from COVID 19 Travancore
Disinfect from COVID 19 Keilor Downs
Disinfect from COVID 19 Keilor Lodge
Disinfect from COVID 19 Taylors Lakes
Disinfect from COVID 19 Watergardens
Disinfect from COVID 19 Airport West
Disinfect from COVID 19 Keilor Park
Disinfect from COVID 19 Niddrie
Disinfect from COVID 19 Glenroy
Disinfect from COVID 19 Hadfield
Disinfect from COVID 19 Oak Park
Disinfect from COVID 19 Broadmeadows
Disinfect from COVID 19 Dallas
Disinfect from COVID 19 Jacana
Disinfect from COVID 19 Brunswick South
Disinfect from COVID 19 Brunswick West
Disinfect from COVID 19 Moonee Vale
Disinfect from COVID 19 Moreland West
Disinfect from COVID 19 Fawkner
Disinfect from COVID 19 Craigieburn
Disinfect from COVID 19 Donnybrook
Disinfect from COVID 19 Mickelham
Disinfect from COVID 19 Roxburgh Park
Disinfect from COVID 19 Kalkallo
Disinfect from COVID 19 Sunshine
Disinfect from COVID 19 Melton
Disinfect from COVID 19 Mitchell Shire
Disinfect from COVID 19 Yarra Ranges
Disinfect from COVID 19 Cardinia
Disinfect from COVID 19 Sunbury
Disinfect from COVID 19 Mernda
Disinfect from COVID 19 Whittlesea
Disinfect from COVID 19 Strathewen
Disinfect from COVID 19 Whyndham
Disinfect from COVID 19 Casey
Disinfect from COVID 19 Moreland
Disinfect from COVID 19 Hume
Disinfect from COVID 19 Darebin
Disinfect from COVID 19 Hobsons Bay
Disinfect from COVID 19 Altona Meadows
Disinfect from COVID 19 Laverton north
Disinfect from COVID 19 Laverton
Disinfect from COVID 19 Hoppers Crossing
Disinfect from COVID 19 Deer Park
Disinfect from COVID 19 Keilor
Disinfect from COVID 19 Altona
Disinfect from COVID 19 Werribee
Disinfect from COVID 19 Wyndham Vale
Disinfect from COVID 19 Tarneit
Disinfect from COVID 19  Melbourne CBD